Ethical Encounter – Youth in Custody in New Zealand
On the 30th of July 2016, Edmund Rice Justice Aotearoa/New Zealand Trust held its first Ethical Encounter for 2016.
We had a presentation from Charlie Devine and Adrian Els who were the co-authors of the 2015 Youth Custody Index Report at St. Thomas of Canterbury College. They spoke of their findings and experience of compiling the report.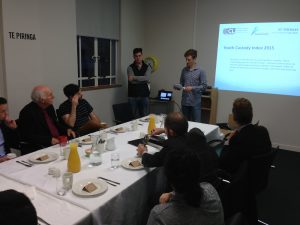 This year the research included an insight into the increasing number of incarcerated youth in New Zealand, those looking after youth in custody, as well as the separate journey of female youth in custody.
The floor was then open for everyone to engage in conversation with Charlie and Adrian. The invited guests came from a variety of backgrounds and such as law, social work, and education.The  depth of collective wisdom and experience gathered around the table enriched the conversation.
To find out more about the Youth Custody Index Report please click
 here