The program for this years Street Immersion was similar to the 2015 Street Immersion.
The participants on this program were all Edmund Rice Camp leaders and university students in their last year of study. They endured a cold rainy September weekend in Auckland CBD and had some interesting, yet challenging experiences along the way. Below are some of the insights and thoughts that they had about the immersion.
" The street immersion was a very humbling, yet awe inspiring experience. I met a lot of strong, brave people. I found it suprising how we were welcomed with open arms by almost everyone we met. The street culture was one of kindness, giving, belonging and family." – Ally Bijl-Brown
"Initially I had second thoughts about participating as I was concerned for my safety on the streets, but now I am very glad I got the chance to take part in such an eye opening experience. You will truly understand the phrase "the people that have the least are the ones to give the most" after this experience. – Andrew Chu
"The street immersion is one of the most real experiences you will have. Seeing life through the lens of being on the streets is an unimaginable experience. It showed me the importance of belonging and being a part of a family and community. My thoughts, perceptions, and worries on the street made me feel like I was living another life. The street was a place I could call home because I belonged"  – Julian D'Souza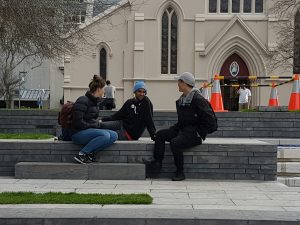 The photos include the participants first reflection outside St. Patricks Cathedral, volunteering at St, Vincent de Paul in Kingsland and an analysis of a report on rough sleeping with the help of members from LifeWise and Auckland City Mission.