Reflection by Calvin Mann & Jacques Maitland
We first visited the Christchurch prison with students from St. Thomas' College, St Kevin's College When we first arrived and walked through the doors we were skeptical about what we were about to experience. All belongings in our pockets and on our persons, including shoes were removed and run through an x-ray machine. Once we were through we sat in a waiting room until we were buzzed into the prison grounds. When we were in the sight of razor wire and matching jumpsuits were terrifying. The Men's prison was just a few hundred metres away from us.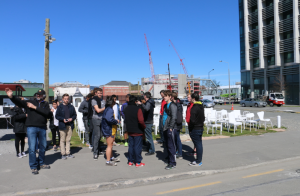 When we got to the cell block where all the youth prisoners stay we were feeling anxious. We were greeted by a man from the Men's prison, he had helped the boys prepare for this meeting. As we walked into a room all we could hear was a roar from 9 boys performing a haka to greet us. When we entered the room we saw that they were seated in front of us and each performed a mihi to introduce themselves followed by a hongi.
We were then given a tour of where some of the boys stay and then we went outside for some games and we met the rest of the boys. A sausage sizzle was put on and a game of touch was played. To our surprise the boys in the prison were super excited to see tomato sauce, something that we take for granted but something they didn't get. This was a message we learnt throughout the day. The boys in the prison their values are much different to ours. They just want what we take for granted. Some wanted to see family, some wanted to just go to KFC, and some wanted to just walk down the street or go to the beach and do what they want. This showed to us that a decision that they once made has impacted their life so much that the small things in life are taken away from them and they become big things. When we were being escorted out through the fences and razor wire our minds were full with thoughts for these boys, we became more grateful for what we have because we learnt that some boys do not have this. They do not have family around them constantly, they cannot go to school and go out and do things with friends, and their life is immediately made harder for them once they are sentenced due to the nature of some of their crimes.
On the second night of the retreat group two visited the Salvation Army in Christchurch. We arrived at the Salvation Army where we entered into a room where sandwiches were being made and being loaded into a Salvation Army van. The volunteers explained to us what they did there and what we were about to do. We were told that we would be following the Salvation Army van in the school van where the volunteers would hand out sandwiches to prostitutes who were working on the streets the night. We would stay in the van as it could be unsafe for us to be out on the streets at that time of the night.
This was a very new experience for me as it was something that I would not normally be witness to and it was interesting to see how the Salvation Army are very involved within the community and are there to provide assistance to anyone who needs it.
At Latimer Square we were able to meet and have conversations with people who are living on the streets and who the Salvation Army provide assistance to. It was very humbling to be able to have conversation with these people and I was able to hear many of their stories. It seemed that they were very happy and joyful to have us there and after about half and hour we hoped back into the vans and headed back to the school.
For more information, send us an email.